About Dr. Sunita Chandrasekaran
Welcome to my research group! I am an Associate Professor at the Dept. of CIS, University of Delaware. My research groups interests include exploring programming models, migrating large scale scientific applications to next-generation platforms including the exascale systems, developing validation and verification testsuites for OpenMP and OpenACC and applying ML for life science.
I am also co-directing the AI Center of Excellence at UD.
For a list of publications and a full copy of my CV, pls click on the PDF below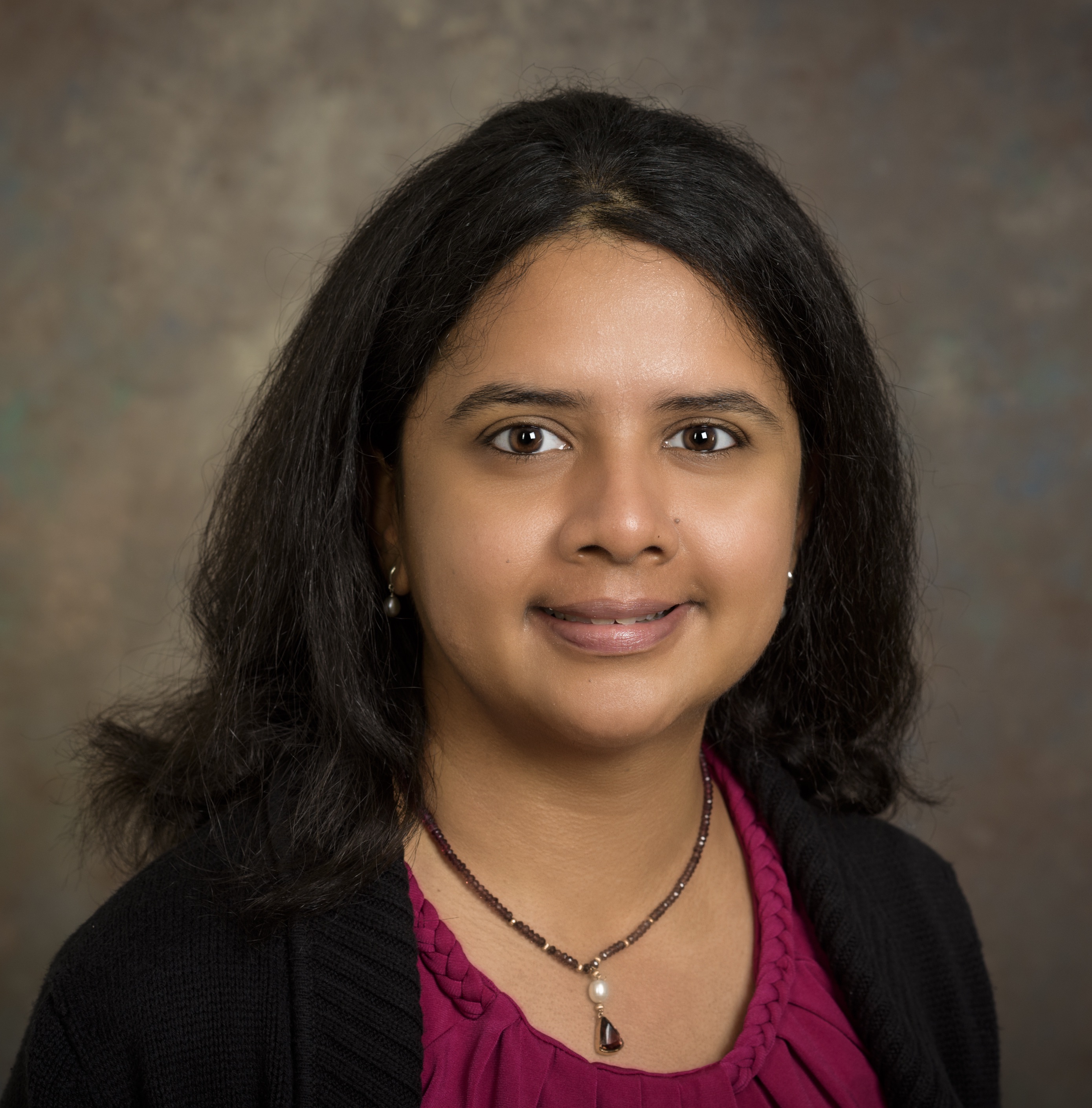 Academic Profile
Name
Dr. Sunita Chandrasekaran
Education
PhD, Nanyang Technological University, Singapore, 2012
(Title: Tools and Algorithms for High Level Algorithm Mapping to FPGA, 2012)
Research Interests
Programming Models, High Performance Computing, Exascale Computing
Machine Learning
Applying computer science to scientific domains including nuclear, bio, plasma physics
Professional Experience
Co-Director; AI Center of Excellence (AICoE), University of Delaware, Newark, USA. September 2022 -
Associate Professor; Department of Computer and Information Sciences (CIS), University of Delaware, Newark, USA. September 2021 –
Computational Scientist, Brookhaven National Laboratory, Upton, NY 11973-5000. September 2021 -
ACM Senior Member. Feb 2022 - present
IEEE Senior Member. Feb 2021 - present
David L. and Beverly J.C. Mills Career Development Chair; Department of Computer and Information Sciences (CIS), University of Delaware, Newark, USA. September 2020 – August 2024
Assistant Professor; Department of Computer and Information Sciences (CIS), University of Delaware, Newark, USA. September 2015 – Aug 2021
Board of Directors; OpenACC Organization. Spring 2020 – Present
User Representative Director; OpenACC Organization. June 2017 – Present
Postdoctoral Researcher; Department of Computer Science, University of Houston, Houston, TX, USA. December 2010 – August 2015
Awards and Honors
ACM Senior Member, 2022 – present
IEEE Senior Member, 2021 – present
2022 SPEC HPG Achievement (Contributor) award
David L. and Beverly J.C. Mills Career Development Chair, University of Delaware, September 1, 2020-August 31, 2024
University of Delaware's College of Engineering Excellence in Teaching Award, May 2020.
2016 IEEE-CS TCHPC Award for Excellence for Early Career Researchers in High Performance Computing
SPEC HPG (Standard Performance Evaluation Corporation, High Performance Group) Technical Leadership Award, Jan 2016
Current Research Grants
DOE Exascale Computing Project (ECP) SOLLVE Project

Title: Scaling OpenMP With LLVm for Exascale Performance and Portability.
Duration: 10/19/21 – 09/30/2023

Leidos Biomedical Research/Frederick National Lab for Cancer Research, USA

Title: Enabling AMPL, CANDLE and other packages outside the NCI-DOE environment.
Duration: 06/01/2021 - 31/05/2022

Helmholtz Zentrum Dresden Rossendor (HZDR) Germany

Title: Exploring a performance portable software stack for PIConGPU to target a next-generation computing system, the FRONTIER Exascale System at ORNL (CAAR Project)
Duration: 10/01/2020 – 03/31/2022

NSF CCF and REU Supplement

Title: PAW: Novel Functionality in Programming Models to Productively Abstract Wavefront Parallel Pattern and NSF REU
Duration: 10/01/2018 – 09/30/2022

DOE Exascale Computing Project (ECP) SOLLVE

Title: Building a Validation and Verification Suite for OpenMP 4.5
Duration: 04/20/17 – 04/30/2023

National Center for Atmospheric Research (NCAR)

Title: Porting the MPS/University of Chicago Radiative MHD Models to GPUs Using OpenACC
Duration: 06/01/2018 – present

Nemours/Alfred I. duPont Hospital for Children

Title: Big Data Analytics and Machine Learning
Duration: 09/01/2018 – 04/30/2023

NVIDIA Research Donation

Title: OpenACC Validation and Verification Testsuite
Duration: 09/01/16 – present

NVIDIA Curriculum Development Grant (Gift)

Title: Creating teaching content for NVIDIA's teaching kit
Duration: 05/01/2020 - 09/30/2020
Past Research Grants
NSF EAGER-1842623, co-PI with Rudolf Eigenmann and Robert Henschel (PI, Indiana University)

Title: Measuring Real World Application Performance on Next-Generation Computing Systems
Duration: 10/01/2018 – 03/31/2021

University of Delaware Research Foundation Grant (UDRF)

Title: Developing an accelerated Next Generation Sequence (NGS) alignment tool using GPUs for pairedend reads
Duration: 06/01/2020 - 05/31/2022
Invited Technical Talks
2022
Keynote at IPDRMWorkshop@SC22 Challenges and success stories migrating software and applications to Frontier, November 2022

ECP SOLLVE at the DOE booth SC22

The Race to Frontier, Stony Brook University, Sept 2022

Preparing Effective Grant Proposals – University resources, Early Career Program at SC22

The good, bad and the ugly with PIConGPU on Frontier, talk at AMD

Preparing the PIConGPU for the next-generation computing systems, BNL, Jan 2022
2021
Experience with porting and scaling codes on AMD GPUs, first PaCER Conference – P'con, Dec 2021

How Ready AreWe to Use the First Exascale Supercomputer, Frontier?, DOE ECP Booth, November 2021

Best practices for a productive (yet performance) software development, 2021 Europe ACM Summer School, Aug 2021

An HPC Journey – Porting a Solar Physics Code to Large Scale Systems, The Society of HPC Professionals, July 2021

Ten ways to build a productive (yet a performant) software, Supercomputing Frontiers Europe, July 2021

Programming Frontier, challenges and solutions, OLCF User Group meeting, June 2021

Present and the future of Accelerated Computing Programming Approaches, Panelist for NVIDIA GPU Technology Conference (GTC), March 2021

Exascale Simulations for the Next Generation of Plasma Accelerators with PIconGPU, SIAM CSE 2021, Feb 2021

Preparing to program the world's fastest supercomputer, NSF-funded DARWIN system Symposium, UDEL, Feb 2021
2020
Evolution of a Project, Talk at the Students at the Supercomputing Conference (SC) program, Nov 2020

Hierarchical Parallelism for Exascale Computing (HiPar20 at Supercomputing Conference (SC), Panelist, Nov, 2020

Developing Software for today's and tomorrow's platform - fun or a nightmare, Invited talk by Prof. Michela Taufer at the UTK Seminar Series, UTK, Oct 2020

Research Activities at CRPL. Hierarchical Computations on Manycore Architecture Group at KAUST, Saudi Arabia, Aug 2020

Preparing Software Stack for the Next Generation Systems - An opportunity or a nightmare?, Thirteenth International Workshop on Parallel Programming Models and Systems Software for High-End Computing (P2S2) in conjunction with ICPP 2020, Aug 2020

Scientific Software Productivity - Case Studies, Challenges, Opportunities and Potential Solutions, 2020 Collegeville Workshop on Scientific Software: Panel on productivity definitions and challenges, July 2020

ECP SOLLVE, OpenMP Validation and Verification Effort, OpenPOWER Academia and Research Webinar, June 2020

GPUs for Science Day 2020, NERSC (National Energy Research Scientific Computing Center), Lawrence Berkeley National Laboratory in Berkeley, California, June 2020

Training and Best Practices to Develop Portable Yet Performant Code, Seattle, February, Society for Industrial and Applied Mathematics, Parallel Processing (SIAM PP), Seattle, USA, Feb 2020 (In person)
2019
Running PIConGPU on Summit. CAAR: Preparing PIConGPU for Frontier at ORNL, 4th OpenPOWER Academic and Research Workshop, Denver, USA, Supercompuing Conference (SC), Nov 2019

OpenMP 4.5 Validation and Verification Testsuite, 4th OpenPOWER Academic and Research Workshop, November, Denver, USA, Supercompuing Conference (SC), Nov 2019

Applying directives to port MURaM code to heterogeneous systems, ASTRONUM, Paris, France, July, 2019

Development of a parallel algorithm for WGS alignment for rapid delivery of personalized genomics, PASC Minisymposium, Zurich, Switzerland, June 2019

Impact of parallel programming models on interdisciplinary scientific research, University of Basel, Basel, Switzerland, June 2019

OpenACC-Based GPU Acceleration of Chemical Shift Prediction, GPU Technology Conference (GTC), Invited featured speaker, CA, USA, Mar 2019

Porting MURaM (Max Planck University of Chicago Radiative MHD) to GPUs Using OpenACC, GPU Technology Conference (GTC), Invited speaker, CA, USA, March 2019

Acceleration of Prediction of Chemical Shift Structures, SIAM CSE, Spokane, USA, Feb, 2019
2018
Development of a parallel algorithm for whole genome alignment for rapid delivery of personalized genomics. NSF-funded International workshop Big Data and Extreme-Scale Computing (BDEC) Meeting, Indiana University, Bloomington, USA, Nov, 2018

3P to Science using OpenACC: Performance, Productivity, and Portability. NVIDIA Booth at the SC showfloor. Dallas, Nov, SC18

Swiss Army Programming: Performance and Portability from Modern Tools. Dallas, Nov, SC18

Using the Parallel Programming Model, OpenACC, to do More Science and Less Programming, Bootcamp, Princeton University, NJ, USA , USA, Oct 2018

HPC-as-a-service to Domain Scientists, PASC Minisymposium, Basel, Switzerland, July, 2018

Opportunities and Challenges Migrating Scientific Code to Accelerators, National Center for Atmospheric Research (NCAR), Boulder, USA, June, 2018

Achieving Performance While Preserving Portability for NGS Application, Society of Industrial Mathematics, Parallel Processing (SIAM PP), Tokyo, Japan, Mar 2018

Adapting Minisweep, a Proxy Application, on Heterogeneous Systems Using OpenACC Directives, Featured Speaker, Graphic Technology Conference (GTC), CA, USA, Mar 2018

Path forward for softwarization to tackle evolving hardware, SPIE, Orlando, USA, Apr 2018 2017

Parallelization and Acceleration of the Nuclear Reactor mini-app Minisweep on an OpenPOWER platform, 2nd OpenPOWER Academia Discussion Group Workshop, Supercomputing Conference (SC), Denver, USA, Nov 2017

Building Your Academic Professional Network. Grace Hopper Celebrations, Houston, USA, Oct, 2017

Using OpenACC for NGS Techniques to Create a Portable and Easy-to-Use Code Base. GPU Technology Conference (GTC). CA, USA, Mar 2017

Exploring on-Node Programming Models for Irregular Algorithms. SIAM CSE, Atlanta, USA, Feb, 2017

Programmer's perspective on evolving hardware, Challenges and Success Stories, RWTH Aachen, Germany, Feb 2017
2016 and before
Hackathons, Best Practices in HPC Training,Workshop co-located at SC16, Salt Lake City, USA, November, 2016

OpenACC status and feedback, Birds of a Feather (BoF): GPU Technology Conference (GTC), San Jose, USA, May, 2016

Industry Standards for Programming Multicore Systems: Way to go!, Multicore Devcon Conference (MDC), California, Santa Clara, May, 2014

Exascale will soon be here, how prepared are we, Argonne National Lab, Chicago, USA, Apr, 2014

Simplifying Heterogeneous Multicore Programming Using Industry Standards. SIAM PP, Portland, Feb, 2014

Open Registry for Accelerated Computing, Many-Core and Reconfigurable Supercomputing Conference (MRSC), Bristol, UK, 2011

OpenACC API: User Experience, Vendor Reaction, Relevance, and Roadmap. Birds of Feather Speaker at SC16, Salt Lake City, Nov, 2016
Professional Activities - External (Recent and Selected)
For a full copy of my CV, pls click on the PDF below
Special Issue Editor for Future Generation Computing Systems (FGCS) 2021-2023

Associate Editor, Transactions of Parallel and Distributed Systems (TPDS) 2020 -

External Scientific Advisory Board

NCAR CISL Advisory Panel Member, 2022
Advisory Editorial Board - Software: Practice and Experience (SPE), 2022
Organizing Committee, SIAM Parallel Processing Conference 2022
European H2020 project: EPEEC (European joint Effort toward a Highly Productive Programming Environment for Heterogeneous Exascale Computing) Scientific-Industrial Advisory Board (SAIB), Barcelona Supercomputing Center, Spain, 2018-2020

Proposal Reviewer, US and International

DOE Presidential Early Career Awards for Scientists and Engineers (PECASE), May 2021
NSF Review Panel, 2016, 2017, 2018, 2019, 2020, 2022
Natural Sciences and Engineering Research Council of Canada, Canada, Review Panel, 2017
DFG (German Research Foundation), Germany, Review Panel, 2017

Chair and Co-Chair - Conferences/Workshops/Symposiums/Scholarships

TechnicalProgramCo-chairIEEE/ACMInternationalSymposiumonCluster,CloudandGridComputing, (CCGrid), 2023
IEEE Cluster Student Travel Liaison chair, 2020-2022
Vice Chair, Interdisciplinary track, International Parallel & Distributed Processing Symposium (IPDPS), 2022